List of Personal Genome Sequencing and Interpretation Services
These items are not necessarily up-to-date, comprehensive, nor recommended by PGP or any affiliated institutions, but simply a public list intended to provoke discussion. You are invited to suggest improvements.
Whole Human Genome Sequencing
Exome Sequencing
(~1% of the genome, certain protein null variants undetected)
Genos
$499 (125X Exome)
BGI
$499 (100X Exome)
Omega
$517 (30X Exome)
14 labs
$798 (Exome)
Gene-by-Gene
$1095 (70X Exome)
Cancer Exome or Genome Sequencing
Illumina
Whole Genome.
Mayo Clinic
$7000 (Exome)
Alacris
(WGS + System Model)
Foundation Medicine
62 to 315 genes (of ~25,000 genes)
Genome Interpretation
Open Humans: GenomiX Genome Exploration
$0
Genevieve Genome Report
$0
GET-evidence.org
$0
Promethease.com
$12
Enlis Genome Personal software
$80 (for VCF)
Interpretome.com
(Temporaily offline)
MalaCards: The human disease database
Knome-Tute-PierianDX
Probably not close to whole genome or whole exome in comprehensiveness
Toolbox
$167
YSeq
"Testing... 15x,30x,50X" but of what?
Personalis
Partial Exome
Other omics lists:
Who should sequence your genome? Comparisons
Whole genome sequencing list
ISOGG Personal genomics companies list
(typically not whole genome).
Whole Genome Sequencing (WGS) vs. Whole Exome Sequencing (WES)
Sequencing.com
Summary
DNA Testing Choice
Summary
Sharing your genomic and medical data:
PersonalGenomes.org
GenomesUnzipped.org
OpenHumans.org
Note that "whole", "complete", or "full" genome sequence typically means 95% genome (where the 5% missing is not always the same or known).
No human genome has been 100% sequenced to my knowledge. This remains an important goal.
DTC indicates explicitly "Direct-To-Consumer", but probably others can be fairly easily accessed with help from a physician.
Last update: 15-Nov-02018 by
GMC
--
(list of commercial connections)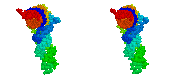 History & alternative forms of this web site
.