DPInteract: Field Abbreviations
Each line (except blank ones) in the database is prefixed with a two-character abbreviation which marks the type of information (field) found on that line.
AC ACcession number a permanent serial number for a particular entry in the database (most don't have this yet)
AN Alternate Name(s) additional gene symbols (see GN)
BC Binding Comment free-form comment on binding site data
BN Binding Non-site site which has been shown to NOT bind the protein of interest
BP Binding Potential site which may bind the protein, based on similarity or other evidence
BS Binding Site site which has been shown to bind the protein of interest by footprinting or SELEX
CM CoMment free-form, general comment
DE DEscription description of the protein
GN Gene Name standard genetic symbol for this protein
ID ID the name of this entry (this is not guaranteed to be permanent -- see AC)
MA Matrix Adenosine values for A in a matrix
MC Matrix Cytosine values for C in a matrix
MG Matrix Guanosine values for G in a matrix
MT Matrix Thymosine values for T in a matrix
OS Organism Species genus and species for this organism
PC Protein Class the structural class to which this protein belongs
PF Protein Family the protein family to which this protein belongs
RA Reference Authors citation authors
RC Reference Comment free-form comments on the citation
RL Reference Keyword(s) keywords for this citation, from a restricted vocabulary
RL Reference Line the citation
RM Reference Medline Medline UID for this citation
RT Reference Title title of the citation
RX Reference Xref Cross-reference to a bibliographic database (other than Medline)
SC Section Section; some of the larger entries are organized into sub-sections
SP SwissProt SwissProt cross-reference
XR X-Reference Cross-reference to another database, or to another entry in this database.
## separator line
---
Note: This database copyright 1994 Harvard University.

Robison, K., and Church, G.M. DPInteract: A database on DNA-protein interactions. (1994). Electronically published and manuscript in preparation.

Please contact krobison@nucleus.harvard.edu to report additional data or problems with this database.
---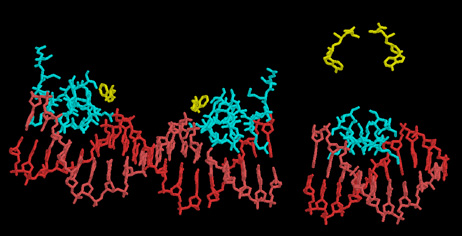 DPInteract