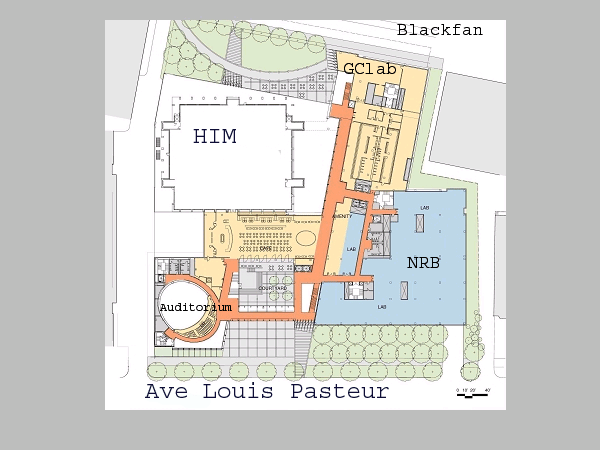 Contacting & Visiting the Church Laboratories
---
To Schedule a Meeting with George Church:
Contact
Church_Lab_Admin (at) hms.harvard.edu
Mailing Address:
Department of Genetics
, New Research Building (
NRB
)
77 Avenue Louis Pasteur
,
Room 238
(233,
232
).
Boston
, MA
02115
USA
(617) 432-7562 Lab Director:
George Church
(617) 432-1278 Lab Office and Scheduling:
Emma Taddeo
(617) 432-7667 Room Scheduling:
Sarah Merry
(617) 432-0441 Press contact:
Ekaterina Pesheva
---
Additional Links:
Wyss Institute
for Biologically Inspired Engineering
Broad Institute
of Harvard & MIT
Postdoctoral and other lab positions
Jobs Available
Internal Lab Ordering & Lab Responsibilities
---
Maps: Street map and HMS - directions
Hotel lodgings on the Harvard Longwood Medical Area campus:
The Inn at Longwood Medical, 342 Longwood Ave. (617)-731-4700
Directions from Boston Logan Airport via MBTA (Mass. Bay Transportation Authority, aka the "T"):
1. Take the shuttle bus to the airport subway stop.
2. Take the Blue line inbound to Government center.
3. Take the "Green-Line-E" outbound
4. From the "Green-Line-E Longwood" subway stop at the corner of
Huntington and Longwood go ~100 meters west on Longwood
(right relative to the direction that your train was moving).
5. On your right off the circle will be the NRB.
6. After two glass doors you will find a security guard 24 hours a day
who will help you find the correct laboratory (2nd floor).
7. After hours, you can also use the phone just inside the first glass
door on the wall to call us at 2-7562, 2-7561, or 2-7405.
Directions by car or cab from I-93 or Logan airport:
1. The main highway along the Boston side of the Charles River is called
Storrow Drive. Take Storrow Drive to the Kenmore Square Exit.
2. Go through Kenmore Square Bearing left to Brookline Ave.
3. Go down Brookline Ave. through about 3 lights.
4. Turn Left at Longwood Ave.
5. Go down Longwood through one light.
6. Just at the Quadrangle on your left is 77 Ave Louis Pasteur.
7. If parking, Go down the ramp into the underground parking facility
8. Give them your name and mine. This works best if they have been
informed in advance by someone from my laboratory.
Directions from MIT or Harvard Cambridge Campuses via the M2 shuttle bus:
The M2 bus will drop off near the HMS Quadrangle on Longwood Avenue.
Additional information and schedules.
Thank you.
Updated: 21-Oct-02018 by George 丘奇乔治 , 教会ジョージ , 교회 조지 , Джордж Черч , كنيسة جورج (email).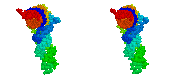 To the main Church Lab web page